Istanbul is a shopping capital, and throughout its streets you'll find hundreds of artisanal shops, with fashion, food, and even fakes!
Typical Istanbul Products
Rugs
Rugs are perhaps the best-known product in Turkey. In Istanbul, you'll find rugs at a variety of prices and with varying quality. To avoid possible problems at the airport, don't forget to ask for the bill and bring it with you when passing through customs.
Antiques
Although the majority of the antiques on offer at stores in Istanbul will be fakes, if you find an object that's more than 100 years old, to take it out of Turkey you'll need an export licence from the Provincial Museum - a difficult document to acquire.
Fake Clothes
Istanbul is a hub for quality fake clothes. One of the best places to find all your fake luxury items is  Cadircilar Caddesi, a street to the west of the Grand Bazaar and where copyright laws take a backseat to low low prices.
Turkish Delight and Baklava
Turkish delight and baklava are the two typical Turkish desserts, and both are reasonably cheap, and a perfect gift to bring home from your trip to Istanbul. You'll find dessert shops throughout Istanbul.
Other Food Products
Nuts, tea, cheese and spices are some of the traditional ingredients of Turkish cuisine. In Istanbul, you can buy spices such as saffron at really reasonable prices.
Although you're sure to find hundreds of stalls and markets in Istanbul there are two markets that are absolutely essential for any visitor:
Unmissable Markets in Istanbul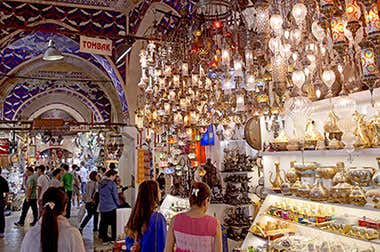 The Grand Bazaar is the largest and oldest market in the city. It was built in 1455 and has more than 3,600 stalls and 64 streets.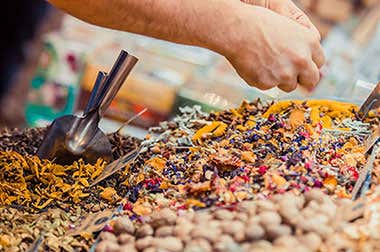 The Spice Market is one of the oldest in Istanbul, and one of the best places in the city to buy traditional local products.