Museum of Turkish and Islamic Art
The palace was buit by Sultan Suleiman the Magnificent, when Ibrahim Pasa (his Visier) married his daughter.
Following the murder of Ibrahim Pasa in 1536 (he was accused of treason), the building has been used for various purposes.
In 1983, this palace was chosen to host the museum. It's found in an enviable location next to the Hippodrome and the Blue Mosque.
Collection
The museum collection comprises of more than 40,000 objects from a variety of categories: rugs, ceramics, sculptures, sarcophagi, and even different versions of the Quran and various lecterns to read them from. The door to the Grand Mosque of Cizre is one of the star attractions.
As well as the collection of objects, the museum contains a small but interesting ethnology section, where you can see recreations of daily life in different geographic areas and time periods in Turkey.
Our Opinion
If you have already visited the Archaeological Museum, this museum contains a great variety of objects that, if you're a fan of museums, will leave you more than satisfied. And the ethnological section is very well thought out.
In the museum courtyard, you will also find a terrace with some fantastic views of the Blue Mosque. Without a doubt one of the best places in the city to stop and drink a cup of tea.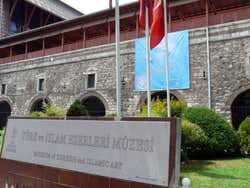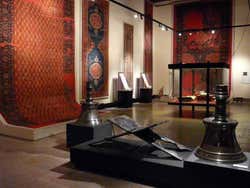 Schedule
April to October:
Tuesday to Sunday - 9 am to 7 pm.
November to March
Tuesday to Sunday - 9 am to 5 pm.
Price
Adults: 50 TL (US$ 2.40)
Children under 12: free
Transport
Tram: Sultanahmet, line T1.