The Basilica Cistern, also known as the submereged palace is a resevoir constructed in the 6th century that makes for one of the city's treasures.
The cisterns are deposits which were built so the city had water reserves should it be attacked. Another (more attractive) name for the Cistern is the "Submerged Palace".
The Basilica Cistern was built during the reign of Justinian (527-565) to supply the Byzantine palace. the site (to which it owes its name) was beneath a basilica which no longer exists.
To fill the cistern, the aqueducts of Valente and Adriano were used, aqueducts which recieved water from the Belgrade forests, some 20 km from Constantinople.
Inside the Cistern
The Yerebatan cistern (its name in Turkish is Yerebatan Sarnıcı), is 140 by 70 metres in size, and holds up to 100,000 m3 of water.
The cistern boasts 336 9 metre high columns, with varied styles, having been recycled from many of the older structures and monuments.
The touristic route takes place on walkways which lie above the water. These were added towards the end of the 20th century, and beforehand the route took place by boat.
The heads of Medusa
Among the 336 columns of the basilica, there are two which have a medusa's head as the base, the mythological monster who turned whoever looked at her into stone
There are several theories as to why these large heads were placed inside the cistern, but the most widely accepted theory is that they were put there for practical reasons, simply as the base of the column.
Our Opinion
The Cistern Basilica is an oasis of calm in the middle of bustling Istanbul: its soft lighting, music in the background and refreshing cool coming from the water makes this an unmissable visit.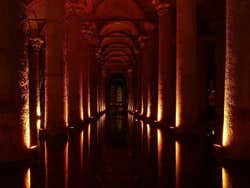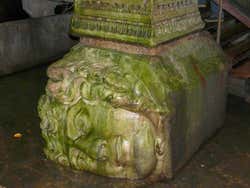 Schedule
Every day from 9 am to 7 pm
Price
190 TL (US$ 9.60) per person
Transport
Tram: Sultanahmet, line T1.