A jeton is a ticket which can be used to pay for a single trip in the main means of transport in Istanbul. It's basically a single ticket.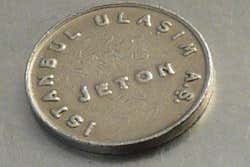 A Jeton, valid for one journey
Jetons can be bought in the various different stations where they are valid, and are used as payment to get through the turnstiles.
Advantages and Disadvantages
This all depends on the amount of time you're going to be in Istanbul, and how much you're planning to use public transport. If you're only in town for a short time, it might be better to buy just a few Jetons and pay each journey individually. Or if not, you might prefer the Istanbulkart card.
Where can I buy them?
You can buy the Istanbul Jetons in tram, metro and funicular stations.
One Jeton costs 5 TL (US$ 0.30).
What was a Jeton?
Interestingly, a Jeton was a kind of chip that was made in Europe between the 13th and 17th centuries. They were used to settle accounts and as a substitute for money in games. They could be said to be the predecessor to the casino chips of today.