The Galata Tower (Galata Kulesi in Turkish) is one one of the oldest towers in the world. From the top you can find some of the very best views of Istanbul.
The first Gálata Tower was built from wood in 528 as a lighthouse, and in 1348 it was rebuilt by the Genovese with the name 'Tower of Christ'.
During the conquest of Constantinople in 1453, the tower was occupied by Sultán Mehmet II.
Dimensions
Its height of only 61 metres, is not the most striking thing about its size. In reality, the most surprising part is the diameter and thickness of its walls.
The base of the tower measures 16.5 metres on the outside and 8.9 inside, meaning the walls are 3.7 metres thick at the base!
The thickness of the walls decreases as you climb the tower, and at the top, it's only 20 centimetres thick.
Our Opinion
Climbin the Galata Tower gives you the best views of Istanbul. If you want to immerse yourself yet more in history when getting there you can get there on the Tünel Funicular from the Galata Bridge.
If you would like to make the most of a special night, the Galata Tower puts on various dinners with shows, open bars and dancing. The price is around €65.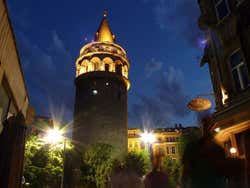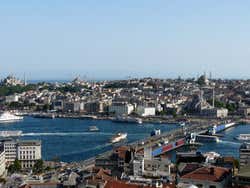 Schedule
Daily from 8 am to 11 pm
Price
Adults: 175 TL (US$ 8.30)
Transport
Tram to Karaköy, line T1. From here you can take the Tünel funicular railway.