The Church of the Holy Saviour in Chora (Kariye Müzesi) often simply known as Chora Church, is one of the world's finest examples of Byzantine art. 
The church was built between 1316 and 1321, according to the plans of Theodore Metoquines, the church is home to spectacular Byzantine frescoes and mosaics considered the best preserved in the world.
The most impressive aspect of the church are its frescoes and Byzantine mosaics, known as some of the best-conserved examples of their kind in the world.
An unusual fact: Choro actually means "outside the city" as this church was initially built outside the walls of old Byzantium.
The Ottoman Era
Just like the Hagia Sophia, having conquered Constantinople for the Ottoman Empire, the Chora Church was converted into a mosque. In 1948 restoration work began and 10 years later it was reopened to the public as a museum.
While it served as a mosque, the frescoes were covered with plaster, a detail that likely helped in their conservation and excellent state today.
Our Opinion
Although its mosaics and frescoes are impressive, its relative distance from the centre (you can't get there either by tram or metro), and the price of the visit means that we've got some doubts when recommending it to the general public. If you're a fan of Byzantine art however, this is an unmissable sight.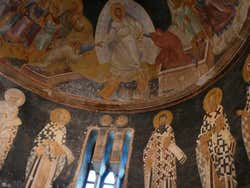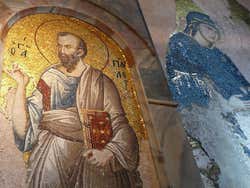 Schedule
Daily from 9 am to 5 pm (in summer until 7 pm)
Price
Adult: 45 TL (US$ 2.20)