The Istanbul Grand Bazaar (Kapalıçarşı) is one of the largest and oldest markets in the world, and the best place to shop for artisan goods, jewels and clothes.
In Numbers
The total area of the market is 45,000 square metres, and 20,000 people work inside. The daily number of visitors varies, between 300,000 and 500,000 depending on the time of year.
The Istanbul Grand Bazaar has more than 3,600 shops which are spread out over 64 streets, and there are 22 doors which give access to the market.
Origins
The origins of the Grand Bazaar go back to the time of Mehmed II, when in 1455 the old bazaar was built near his palace (Eski Bedesten). Just as in many other cities, artisan workshops sprung up around the building, creating a network nearby.
Little by little these buildings grew in number, and the streets were covered. Then the complex was walled in, creating the enormous market we see today.
Our Opinion
Visiting Istanbul and not seeing the Grand Bazaar would be like traveling to Marrakech and not touring its souk. Its thousands of colourful stalls will keep you astounded for as long as you allow them to: hundreds of business owners are just waiting to haggle with you! Don't disappoint them - be sure to work them down and get the best possible price.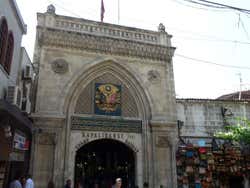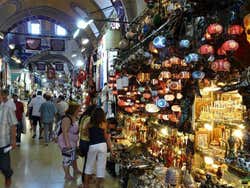 Schedule
Monday to Saturday, 8:30 am to 7:30 pm, although we recommend going at 6:30 at the latest.
Sundays: closed.
Transport
Tram: Beyazit (line T1).