The Çemberlitaş Hammam is the most famous Turkish bath in Istanbul, and is located in the historic centre of the city.
This bath can be found in the historic centre of the city, next to the Grand Bazaar, the Constantine Column and other touristic sights.
The Çemberlitaş Hammam was built by Sinan in 1584, during the rule of Sultana Nurbanu, born in Venice in the middle of the 15th century and brought to Istanbul by Ottoman courtesans. The distinctive touches of Sinan, the empire's chief architect, can be seen in the magnificent domed interior.
The Baths
That it's the most famous bath in Istanbul also makes it the most expensive, something that does not necessarily mean a better service. Its architecture, however, is stunning, with columns and natural light streaming through windows in its high domed ceiling. It's perhaps the best way to get the feel of a truly historical Ottoman bath.
The bath, although it admits both men and women, the halls and the treatments are unisex. If you are looking for a mixed bath, you should go to the Suleymaniye hammam.
What is Included
Although there is an option with no services included, if you opt for the most common pack it includes an exfoliating massage for 15 minutes and a half hour oil massage. The price of this service is approximately 60 TL (US$ 3.20).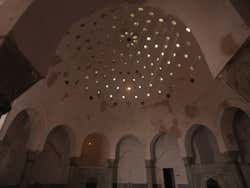 Schedule
Mondy to Saturday, 6 am to midnight.
Transport
Tram: Çemberlitaş (líne T1).